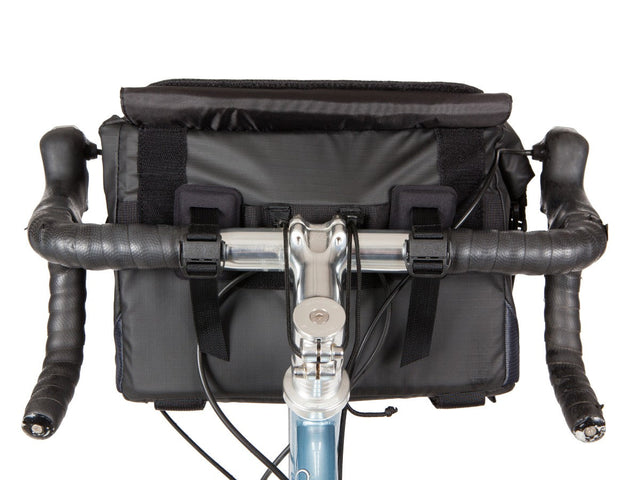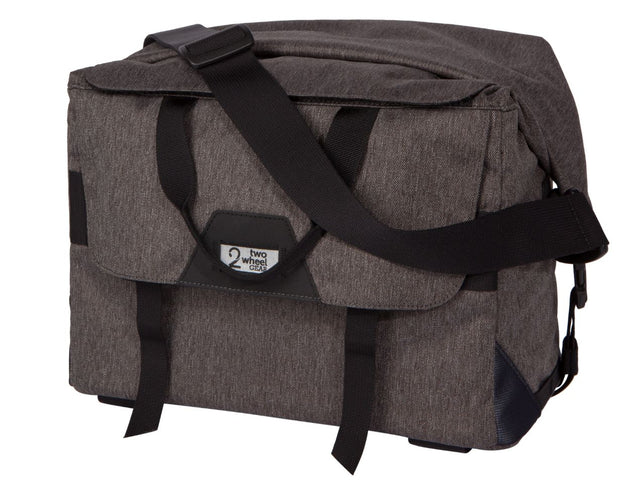 Handlebar bag, meet trunk bag.
This 4-in-1 shapeshifter is your primary carry-almost-anything bike bag. Attach it to any standard front or rear rack with heavy-duty velcro straps, drop it in any bike basket or securely mount it to handlebars with the quick slide attachments. Total utility for commuting or weekend adventures.
---
Specs
Dimensions: 14.5" Wide x 7.5" High x 9" Deep
Volume: 20 Liters
Weight: 1.87 lbs / 0.85 kg 
Material: TPE Waterproof Backed 600D Polyester
---
Versatile and easy to use.

HANDLEBAR MOUNT
Secure buckles and then use the adjuster to tighten the cord around the stem.
RACK MOUNTING
Secure velcro straps around the bottom of the rack. For additional security, you can clip buckle straps through the rack on either or both ends.

---
Features
- 4-in-1 functionality
- Attaches to front or rear rack, handlebars, or basket
- Secure + fast attachment to standard racks 
- Hidden handlebar mounts and stem stabilizer line 
- Roll-Top closure with internal organization
- Exterior quick access pocket
- Removable shoulder strap
- Reflective design with loops for lights
- Includes fluorescent waterproof cover



30 DAY GUARANTEE 
2 YEAR WARRANTY 
GENERAL FAQ
SHIPPING INFO
Introducing
Our brand new 100% recycled fabric.
We're reducing the amount of raw materials we use in the manufacturing of our bags by switching over to a new, rugged, waterproof ripstop nylon made with 100% recycled content. Doing more with less is just one way we're making a difference.
Take a closer look at the Dayliner Box Bag
Find the perfect combo for your ride.